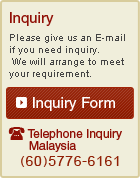 Please contact through Web Inquiry or call us direct. FAX(60)5776-0930 is also available.
We are looking for oversea enquiry and retail.

We will discuss over your requirement and needs. And decide the term and condition.
Once term and condition is fulfilled, the necessary shipping documents etc will be prepared.Your goods are on the way!

Oversea Contacts Are Welcome!