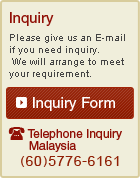 Mokusaku is the Japanese traditional land improver which is collected by the method of cooling the exhaust smoke of charcoal kilns when burning the wood material.
It contains 200 types of organic minerals which is good for plants.
We have industrial distillation systems and we are the first company in Malaysia who taught the local kiln holders to collect the wood vinegar from their kilns. It is also good for the environment as it can reduce the pollution by way of reducing the exhaust smoke from kilns.
Wood vinegar does not only works for agricultural usage but also can be used for your daily life usage such as garbage odor eraser.


The left photograph: The distillation by the special distillation machine.

Oversea Contacts Are Welcome!